Ashleigh's Most Recent Current Obsession:

(image source)
Okay… Okay…I'll be the first one to admit… This nursery is a *tiny* bit over the top for me.  I think it's a combination of the small space  + too much furniture + dark walls.  Or maybe it's the oddly sized chandelier.  Either way, something's a little off about this room to me, but one thing is absolutely certain:  I LOVE THE COLOR ON THE WALLS!  This rich chocolate brown has become a new must-have for me, and I want to show you that this is totally do-able and functional in your house, whether in a baby's room or your kitchen!
Here are the walls that I completely and totally envy:
(image source)
I have always always always loved a white kitchen and never once thought of pairing it with this gorgeous brown.  What was I thinking all of these years to ignore such a gorgeous color combination?  My future dream kitchen thanks me and looks a lot like this.  Something about this reminds me of Neapolitan ice cream… Yum!
(image source)
Brown and red?  Oh yes, please!  One look at how rich and elegant a few pops of red can make those beautiful brown walls, and I want to paint a nursery with three walls brown and one wall red.  Or vice versa.  Anyone want to volunteer?  That picture is proof it would look good!
(image source)
I think I like this one simply for it's simplicity.  A stunning headboard, crisp white linens, and glowing lamps.  What more could a girl ask for?  Oh yeah, those WALLS!  Plus, this one reminds me of our whole shabby chic-ness post series (why did I not think of chocolate walls for those three nurseries?!)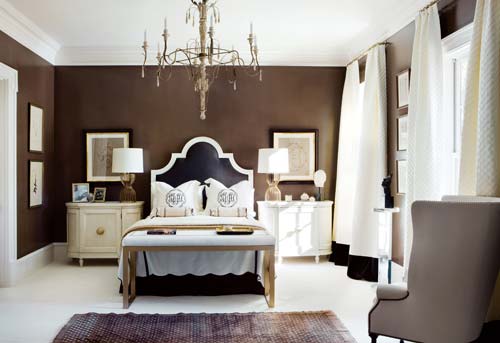 (image source)
Another bedroom for you.  And that leather headboard trimmed in white can come live at my house anytime it would like to!  I also love the textured curtains.  On the far windows, the fabric looks almost sheer but in the foreground you can see the texture in all of it's glory.  And please notice the beautiful side table on the left of the bed.  So French chic…
And last but not least… My favorite…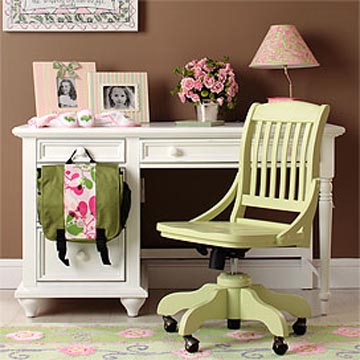 (image source)
It's probably near to my heart because of the pink and pretty girly-ness, but I can't get over how the Nestle Yoohoo-colored walls show off the furniture without looking harsh or dark.  And they make the perfect backdrop for green furniture, and we all know I'm a sucker for painted furniture…
So what do you think?  Would you paint any of your walls brown?  Or is this all a little over the top for you like our first nursery was?  Let me know what you think!
(p.s.  Don't forget that last picture… we're going to be doing a whole nursery revolving around that one!)